Here the Uninterruptible Power Supply (UPS) circuit with PIC17C43 microcontroller. Your UPS will be automatically controlled by the microcontroller.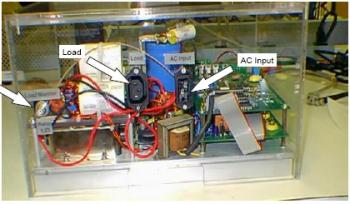 UPS systems are traditionally designed using analog components. Today these systems can integrate a microcontroller with AC sine wave generation, offering the many benefits.
The PIC17C43 microcontroller handles all the control of the UPS system. The PIC17C43 is unique because it provides a high performance and low cost solution not found in other microcontrollers.
Download the document of Uninterrupted Power Supply