Below general power supply circuit has 2 static output type, stabled output at 5VDC and adjustabled output or variable output.
Here the circuit diagram: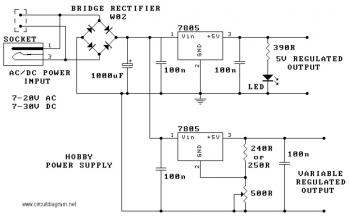 The circuit is based on the regulator IC 7805. It has only 3 connections (input, output and ground) and it provides a fixed output. The last two digits of the part number specify the output voltage, eg. 05, 06, 08, 10, 12, 15, 18, or 24. The 7800 series provides up to 1 amp load current and has on-chip circuitry to shut down the regulator (rather than blowing out) if any attempt is made to operate it outside its safe operating area. (If this happens to you, let the chip cool down and attach the heatsink.).
Visit this page more detail about general power supply.