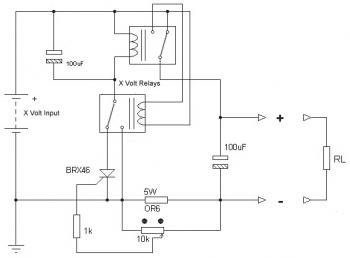 Here the diagram of electronic fuse circuit. This circuit will help to protect the load against short circuit for DC circuit application. Relays should be chosen with a voltage value equals to the input voltage. Do not omit making use of the 100uF capacitor with proper voltage value with respect to the input voltage. The circuit use Silicon Controlled Rectifier (SCR) BRX46 which is designed for control systems and sensing circuit applications. In case you cannot find this component, it is possible to use C106 as a substitute of BRX46.
It is possible to alter the
electric
current with applying 10K potentiometer. In the event you will utilize the fuse with very high currents, then reduce the 0R6 5W resistor value (ex. 0R47, 0R33, 0R22 or 0R1). Watt value of the resistor also needs to be increased also.